For those who've been waiting for the renovated re-release of The Arms of Winter, Winter's Fire is now available for pre-order on Amazon.
Free Short Story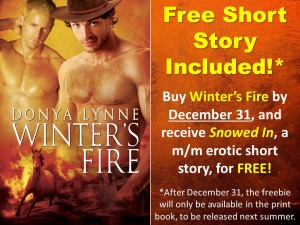 Those who purchase the ebook by December 31 will receive a free erotic m/m short story titled Snowed In, which I originally published in a little-known anthology two years ago. Since not many saw that story, I'm releasing it as a freebie for those who buy Winter's Fire early. After December 31, the short story will only be available in the print version of Winter's Fire, which I expect to come out next summer.
Is Winter's Fire the Same Story as The Arms of Winter?
I've already been asked several times if Winter's Fire is the same story as The Arms of Winter or if it's a rewrite, as well as why I renamed the story. Find my answers below.
Winter's Fire is a total rewrite of The Arms of Winter. It's not the same story. Some elements have remained the same, but most have changed, including the ending.
I originally published The Arms of Winter as a novella with Silver Publishing. When Silver went under earlier this year (the long and short is that the owner was a criminal and a fugitive and wasn't paying the authors, causing a lot of emotional and mental trauma for those involved) and I got my rights back for the story, I decided to rewrite Arms the way I saw it. As for the name change, after consulting with my cover artist, who I met through Silver, I decided to rename the story Winter's Fire and rebrand it with a new cover in an effort to avoid the "Silver stigma," as we called it, by keeping the old title and cover associated with such a negative entity. The new name and cover also better represent the new version's story line. Enough had changed about the story that it deserved a new title and new image to represent it. However, the decision to rename the story and create a new cover was one I obsessed over for months. I didn't take it lightly and knew that some readers would think I was just trying to pull a fast one by making them think this was a new story entirely when it was a rewrite.
Why rewrite it? When I originally wrote The Arms of Winter, it was for a specific call for submission and needed to be written a certain way with certain elements. I was also a new author (The Arms of Winter was my first completed book even though I published two others before this one was published—ah, the ways in which publishing schedules work), and I still had a lot to learn about writing. Three years later, with the luxury of hindsight and much-improved writing skills/techniques, and no longer encumbered by Silver's requirements, I changed up the story to better fit where I saw it. In so doing, I added 40,000 words and turned the story into a novel with a different plot, more conflict, more layers, and a much different ending. With that said, the essence of Sam and Coop has remained the same. It's just how they got to their relationship and the rest of their story that's different.
For those who read and loved The Arms of Winter, I am including it in both the ebook and print versions. In this way, readers can have the old and the new since the original is no longer available. Many had wanted that story in print, and next summer they will have that opportunity despite Silver Publishing going defunct.
Winter's Fire Now Available For Pre-Order
With all that said, pick up your copy of Winter's Fire at Amazon today.
Blurb
Ex-Army sniper Sam Winter is home from the war. But it wasn't an act of heroism that got him medically discharged. After his team found out he was gay, they beat him so severely he could no longer perform his duties. Now, at his family's horse farm in Kentucky, Sam faces not only an uncertain future, but his father's condemnation and prejudice, as well. The one thing he is certain about is his feelings for his best friend, Cooper Brown, who Sam has secretly been attracted to since high school. For years, Cooper has harbored his own secret attraction toward Sam. Now that Sam is home for good, he's ready to tell him how he feels.
When Coop and Sam finally reveal their secrets to one another, the bonds of friendship expand in ways neither thought possible. As his relationship with Coop grows stronger every day, Sam feels his life is finally on course, especially when he rediscovers his love for photography and envisions a new career behind the camera. But an infernal stable fire changes everything and forces shocking, long-hidden truths into the light, changing Sam's life forever.