An IPPY gold medal is like a Grammy or Academy Award.  To win an IPPY means you're among the best of the best, and it's one of the most prestigious awards an independent publisher can win. There's even an awards dinner and ceremony for the medal winners in New York during the BEA convention. In my opinion, The IPPY Awards, or Independent Publisher Book Awards, rank up there with RWA's RITA and Golden Heart awards.
IPPY Gold Medal – Best Romance/Erotica Ebook
For all the above reasons, I was ecstatic when I received the call that my book, Rebel Obsession, had one an IPPY gold medal for best romance/erotica ebook. Many of my readers, my editor included, have said that Rebel Obsession is the best book of the All the King's Men Series. Even so, this little gem doesn't sell as well as the rest of the series. I think it's because readers didn't like Io (the book's hero) in the most beloved book on the series, Heart of the Warrior. In Heart, Io didn't react well to the new his best friend, Arion, was gay. Homophobic and not the most politically correct, Io was a bit of an ass to Arion. If that's the reason for Rebel Obsession's lack of popularity, rest assured, Io pays for they way he treated Arion. Karma comes back around to pay him back in spades, and by the end of Rebel Obsession, he has redeemed himself while walking a mile in Arion's shoes. Rebel is a true work of character redemption and seeing things from another person's eyes. You don't want to miss it.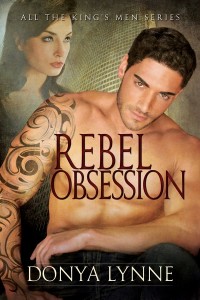 Last year, my novella, Micah's Calling, won a silver in this category, so I'm proud to keep the tradition going with another top three win. Now to set my sites on next year. Can I make it three for three? We'll see.