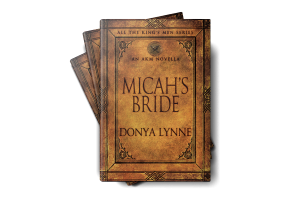 Vampires don't get married. They mate. But for a human, mating isn't enough.
Micah is a mated male. To him, that's all the evidence he needs that he and Sam belong together. But for Sam, a human, it's not that simple. Haunted by memories of her abusive ex-husband, who she married in a small Vegas chapel without her friends and family present, Sam wants a wedding. Her dream wedding. Complete with the dress, the veil, the bouquet, and something old, something new, something borrowed, something blue. This time, she wants to do it right and put her painful past behind her for good.
Willing to give Sam anything she needs, Micah asks King Bain to help him plan the wedding of the century. If the big wedding with friends and family is what she wants, that's what he's going to give her.
And the best part is Sam has no idea.
In Micah's Bride, you'll find laughter and tears, along with a look at some of your favorite AKM characters who've come to witness the first vampire wedding and share in the festivities. But don't be fooled, even happy affairs contain their fair share of shop talk, especially with war on the horizon and a roomful of vampire warriors chomping at the bit to take down the enemy. There's sure to be a few discussions about what's to come after the honeymoon that you won't want to miss.
Recommended for fans of J.R. Ward, Lara Adrian, Kresley Cole.
Books in the AKM Series, in reading order:
Rise of the Fallen
Heart of the Warrior
Micah's Calling
Rebel Obsession
Return of the Assassin
All the King's Men – The Beginning
Bound Guardian Angel
BLACK
Micah's Bride