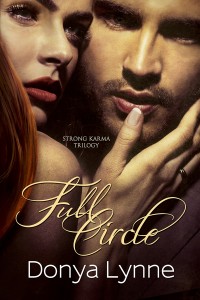 In the final installment of the Strong Karma Trilogy, Mark has accepted his feelings for Karma and has found his way back to her after a year apart. Now he's ready to pop the question and make her his wife. There's just one problem. He's terrified of weddings, especially his own, having been jilted once before. To make matters worse, dark memories from his past have resurfaced, demanding to be revealed. But Mark fears doing so will scare Karma away.
Karma knows Mark has a sordid history, so she doesn't understand why he's so hesitant to discuss his past. But as Mark unburdens his conscience, his confession takes a provocative turn. For almost eight years, he's shelved his own desires in order to give women what they wanted. Now he wants to explore his own kinky fetishes, and he wants to explore them with Karma. Will she be able to fulfill the extreme sexual fantasies he craves?
But it's Mark's continued reluctance to set a wedding date that could destroy them. If he can't figure out a way to overcome his fear, he could lose her. Will Mark be able to say good-bye to old ghosts and reach his happily ever after? Or will the past prove too much for them both to overcome?
Don't miss this exciting, erotic conclusion to the Strong Karma Trilogy.
Recommended for fans of EL James, Sylvia Day, Lisa Renee Jones, and Sylvain Reynard.
Books in the Strong Karma Trilogy, in reading order:
Good Karma
Coming Back To You
Full Circle