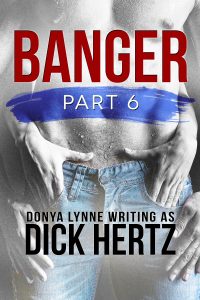 She wants a sexy summer fling. He wants more. And he won't stop until he gets it.
Part 6 of the Banger Serialized Novel (formerly Size Matters).
Greyson's world is imploding. After twenty years of estrangement, his mother has re-entered his life, and it couldn't have happened at a worse time or in a more destructive way. Faced with a new reality he can't get a grip on, he pushes Katherine away.
Broken hearted and left to wonder what just happened, Katherine is inconsolable. But it doesn't take long for her own family secrets to reveal a betrayal that shatters everything she thought she knew. In one shocking afternoon, the questions she's been asking herself for years finally yield answers, but they bring nothing but more pain.
Some obstacles are simply too great to overcome, and Katherine realizes it's time to get her priorities back in order and end her summer fling, no matter how much it hurts. Will Greyson attempt to thwart her decision or accept it, bringing their sizzling summer to a devastating end?
As the Banger Serialized Novel unfolds through seven installments, Greyson and Katherine will wrestle with their feelings for each other, long-held family secrets will be revealed, and scandals neither could have imagined will rock them to the core.
Will what they've found in each other be enough for happily ever after? Or will one summer fling be all they share?
35,000-word novella. Not a standalone.
Warning: The Banger books contain strong, sexually explicit material.
This book is the sixth of seven novella-length parts of the Banger Serialized Novel. All seven novellas are now published, so make sure you read them all.