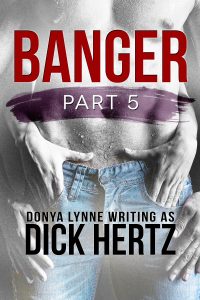 She wants a sexy summer fling. He wants more. And he won't stop until he gets it.
Part 5 of the Banger Serialized Novel (formerly Size Matters).
What do you do when you're trying to keep your relationship a secret but have to attend a wedding where your boyfriend is the best man and half the guests work for him?
You create a diversion.
Which is why Katherine asks Greyson to pretend to be attracted to the maid of honor at their friends' wedding.
Then she meets Courtney, the maid of honor, and realizes she's made a terrible mistake. Once Greyson gets one look at the raven-haired beauty, Katherine will be lucky if he remembers her name. Doubt, insecurity, and jealousy overwhelm her as she watches Courtney hang all over Greyson at the reception, and she struggles to contain her emotions.
Greyson has no interest in Courtney. All he wants is to shout to the world that Katherine is his woman, but she refuses to let him, still determined to keep their relationship behind closed doors. When emotions boil over at the reception, he's done playing games and decides it's time to show the world where his affection lies, and he expects her to do the same.
Will Katherine finally let down her walls and admit her feelings, or will she drive Greyson away for good?
As the Banger Serialized Novel unfolds through seven installments, Greyson and Katherine will wrestle with their feelings for each other, long-held family secrets will be revealed, and scandals neither could have imagined will rock them to the core.
Will what they've found in each other be enough for happily ever after? Or will one summer fling be all they share?
28,000-word novella. Not a standalone.
Warning: The Banger books contain strong, sexually explicit material.
This book is the fifth of seven novella-length parts of the Banger Serialized Novel. All seven novellas are now published, so make sure you read them all.