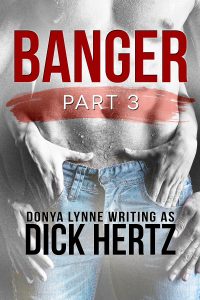 She wants a sexy summer fling. He wants more. And he won't stop until he gets it.
Part 3 of the Banger Serialized Novel (formerly Size Matters).
It's been twenty years since Katherine's mom died. What makes the anniversary of her death even harder this year is that Katherine just found out the man she wanted to spend her summer with wants to buy her company. And since she's actually entertaining the idea, there's no way she can have a relationship with him.
Greyson can't accept that he and Katherine are already over before they even began, but what can he do? She refuses to mix business with pleasure. But when Katherine unknowingly joins his cycling club, he's hopeful for a second chance, especially when it becomes clear the intense chemistry they felt with each other that first night is still there.
Under the circumstances, Katherine is concerned about engaging in a relationship with Greyson. However, if he were to agree to her conditions, she'll reconsider. The ball is in Greyson's court. Will he agree to Katherine's terms, or won't he?
As the Banger Serialized Novel unfolds through seven installments, Greyson and Katherine will wrestle with their feelings for each other, long-held family secrets will be revealed, and scandals neither could have imagined will rock them to the core.
Will what they've found in each other be enough for happily ever after? Or will one summer fling be all they share?
27,000-word novella. Not a standalone.
Warning: The Banger books contain strong, sexually explicit material.
This book is the third of seven novella-length parts of the Banger Serialized Novel. All seven novellas are now published, so make sure you read them all.