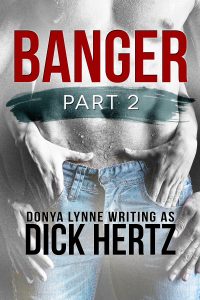 She wants a sexy summer fling. He wants more. And he won't stop until he gets it.
Part 2 of the Banger Serialized Novel (formerly the Size Matters Serialized Novel).
After eighteen years of sexual frustration, thanks to the impressive size of his manhood, Greyson has finally found a woman capable of taking him. All of him. And what a woman she is. Beautiful, sexy, smart, and, unbeknownst to him, the new CEO of the company he's trying to acquire.
Katherine just inherited Freedom Cycle from her retiring father, and the last thing on her mind is selling the company. When her father tells her to attend a dinner meeting in his place with the CEO of a competitor to discuss a possible merger, her mind is already made up. The answer is no.
But when she discovers the person she's meeting is none other than Greyson, the captivating man she spent one gloriously erotic night with, Katherine must decide if she can trust Greyson not only with her heart, but with her company.
As the Banger Serialized Novel unfolds through seven installments, Greyson and Katherine will wrestle with their feelings for each other, long-held family secrets will be revealed, and scandals neither could have imagined will rock them to the core.
Will what they've found in each other be enough for happily ever after? Or will one summer fling be all they share?
27,000-words novella. Not a standalone.
Warning: The Banger books contain strong, sexually explicit material.
This book is the second of seven novella-length parts of the Banger Serialized Novel. All seven novellas are now published, so make sure you read them all.